Welcome to the Official Site for Mason Thomas. You may recognize Mason from one of his jobs for companies such as Imaginarium, Becker's and La di da Boutique. Here you will find all the news and up to date information about this talented young model. For Industry Professionals looking to learn more about Mason, please click on his name above for an overview of information.


NEWS & UPDATES
29 Jan 2015
Fleurisse & Léon
Last year Mason shot for the children's fashion line
Fleurisse & Léon
. He had a fun time on set working with all of the other children, doing group shots, taking solo images, and getting dressed up in his fancy clothes. He has been featured on the home page for the little boys section of their
website
and has other photos used throughout too. The group shots came out great as Mason and his friends jump as high as they can with their balloons and he was even the focus for several of those images. Make sure to check out the new photos and
thank-you
to everyone on set for great shoot.




Posted by: Lisa
21 Jan 2015
Becker's
What better way to start off
2015
than with the release of Mason's shoot for
Becker's
! He shot for them back in October and now that the new year is here the company has been busy updating their
website
with new products and releasing a new
catalog
. Mason has
two
images featured in their catalog as he does puzzles and plays with the water table with his friend. He also has multiple images online and it was so awesome having work and playing with toys be the same thing! Make sure to view the new images in the gallery!



Mason also has some
booking news
to share! He just shot Halloween costumes for
Amscan/Party City
and did images and video for
Petsac
!
Posted by: Lisa
07 Jan 2015
Jenn Erickson Photography
The holidays are the most
exciting
time of the year and what better way to mark all of the fun than with a photoshoot! Mason had a great time with
Jenn Erickson
as he used different backdrops, did outfit changes, and he was full of energy as Jenn captured images. He loved getting dressed up in his Santa suit complete with his name on his hat, and reindeer antlers are pretty cool too! Make sure to view all of the holiday fun in the gallery and
thank-you
Jenn for the new photos!
Mason has some
booking news
to share, he recently shot for
Vanity Fair Outlets
!
Posted by: Lisa
25 Dec 2014
Merry Christmas!!
Mason has been a ball of energy this morning as he got up early to see what
Santa
brought! He is so excited that
Christmas
is finally here and cannot wait to celebrate the day with his family. He hopes that all of you celebrating today have a very
Merry Christmas
, and that everyone, no matter what holiday you celebrate, is having a
magical
holiday season!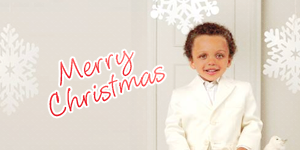 Posted by: Lisa
12 Nov 2014
Happy Birthday!
Mason was a ball of energy this morning when he woke up, ready to see what the day would bring and knowing it would be non stop fun! Today he is no longer a happy little three year old, but a very excited boy ready to enjoy his fist official day being
four years old
!
Happy Birthday Mason
! I hope you have an
awesome
time celebrating with all of your family and friends as they help make your special day one you'll remember for a long time. Enjoy opening all of your presents and making a wish when you blow out the candles on your cake, I hope it comes true!
Happy Birthday
!
Posted by: Lisa
<< Previous 1 2 3 4 5 6 7 8 9 10 11 Next >>