Welcome to the Official Site for Mason Thomas. You may recognize Mason from one of his jobs for companies such as Imaginarium, Becker's and La di da Boutique. Here you will find all the news and up to date information about this talented young model. For Industry Professionals looking to learn more about Mason, please click on his name above for an overview of information.


NEWS & UPDATES
10 Dec 2015
Advil
This past summer Mason shot the
"From Spill to Ill"
campaign for
Advil
. He had a fantastic time working with his pretend family, getting to be crazy and messy on set, and now the final image is surfacing! If you have access to the January 2016 issue of
Parents Magazine
you will see it in a full page advertisement! His pretend Mom definitely has her hands full with a baby, daughter making breakfast, and of course, Mason on the floor eating up all of the spilled cereal and milk. Make sure to keep an eye out for the ad in various magazines and let us know if you spot it in any other publications by leaving a message on Mason's
Facebook page
, we'd love to know where else it's being used!
Posted by: Lisa
12 Nov 2015
Happy Birthday!
It is a big and exciting day for Mason as he is saying goodbye to being four years old and hello to being five...
Happy Birthday Mason
! Today is going to be so much fun for you with all the celebration as the day unfolds, you're going to be having fun from morning til night! Cake, presents, there is so much to look forward to, and I'm sure you're going to love every minute of it. Enjoy your
special day
Mason and I hope the wish you make as you blow out your birthday candles comes true for you, what a big day as you now get to say you're a whole hand when asked how old you are, so cool!
Happy Birthday
!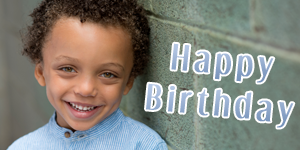 Posted by: Lisa
31 Oct 2015
Party City
If you've been shopping in
Party City
stores and looking at their costume wall you may have spotted Mason! He's quick to recognize in his pretty cool
Brave Crusader
costume, and he also is up on their wall for two costumes from
Guardian of the Galaxy
! It was so exciting to see him in stores, and not only that, but he was also featured in the company's catalog too.

Behind the scenes, Mason had a super fun time getting to put on the different costumes. He loved getting the sneak peek at what would be out in stores in the coming months, and the
sword
was pretty awesome to get to use for some of his photos. The crew were great to work with, making sure he was okay in the different outfits, and giving him some cool ideas on how to pose in character. What a great way to kick off the
Halloween
fun this year, and Mason hopes that everyone has a fun time trick or treating and getting lots of candy!


Posted by: Lisa
05 Oct 2015
Babesta
Mason had a very fun time shooting for
Babesta
earlier this year and the latest edition of
Babesta Beat
is now out! He appears on four pages in an editorial called
"Rock & Soul"
and talk about some awesome images! Mason can be seen with his headphones on, surrounded by records and chilling with his friends as they listen to their boom box. It was a trip through years of music and completed with an electric guitar and microphones. With a
thank-you
to
Amanda Pratt
we also have the shoot images, including an additional shot not featured in the issue!



Behind the scenes, Mason had such an
amazing
time! He got to work with some new friends, and Amanda and Michael were so cool to shoot with. The props were awesome to check out, ways that people listened to music before he was born, and playing with an electric guitar always makes for a great day. While not on set he and his friend posed for photos together while they hung out and kept each other entertained til it was their turn to go out and shoot. Mason just loved working on this editorial, and
thank-you
to Amanda, Michael, and everyone else on set for a fun time!


Posted by: Lisa
08 Sep 2015
Macy's
Hopefully everyone had a fantastic long weekend enjoying some of the last moments of summer. No matter where you were or what you were doing hopefully you did have a moment to check out all of the awesome
Labor Day weekend sales
at
Macy's
because Mason was featured in their
circular
! He was a part of one of the kids apparel pages rockin his Champion hoodie and smiling for the camera. If you happened to visit their
website
as well last week you may have spotted Mason in a
banner
alongside two older girls as they helped to promote some back to school sales. He had such a great time at this shoot a couple of months back and if you missed the images make sure to view them in the gallery!
Posted by: Lisa
<< Previous 1 2 3 4 5 6 7 8 9 10 11 Next >>